"Capture Alpine Beauty, Power and Emotions that Make Up their Essence with Rigor and Dedication."
Thomas Crauwels
A Few Words
Thomas Crauwels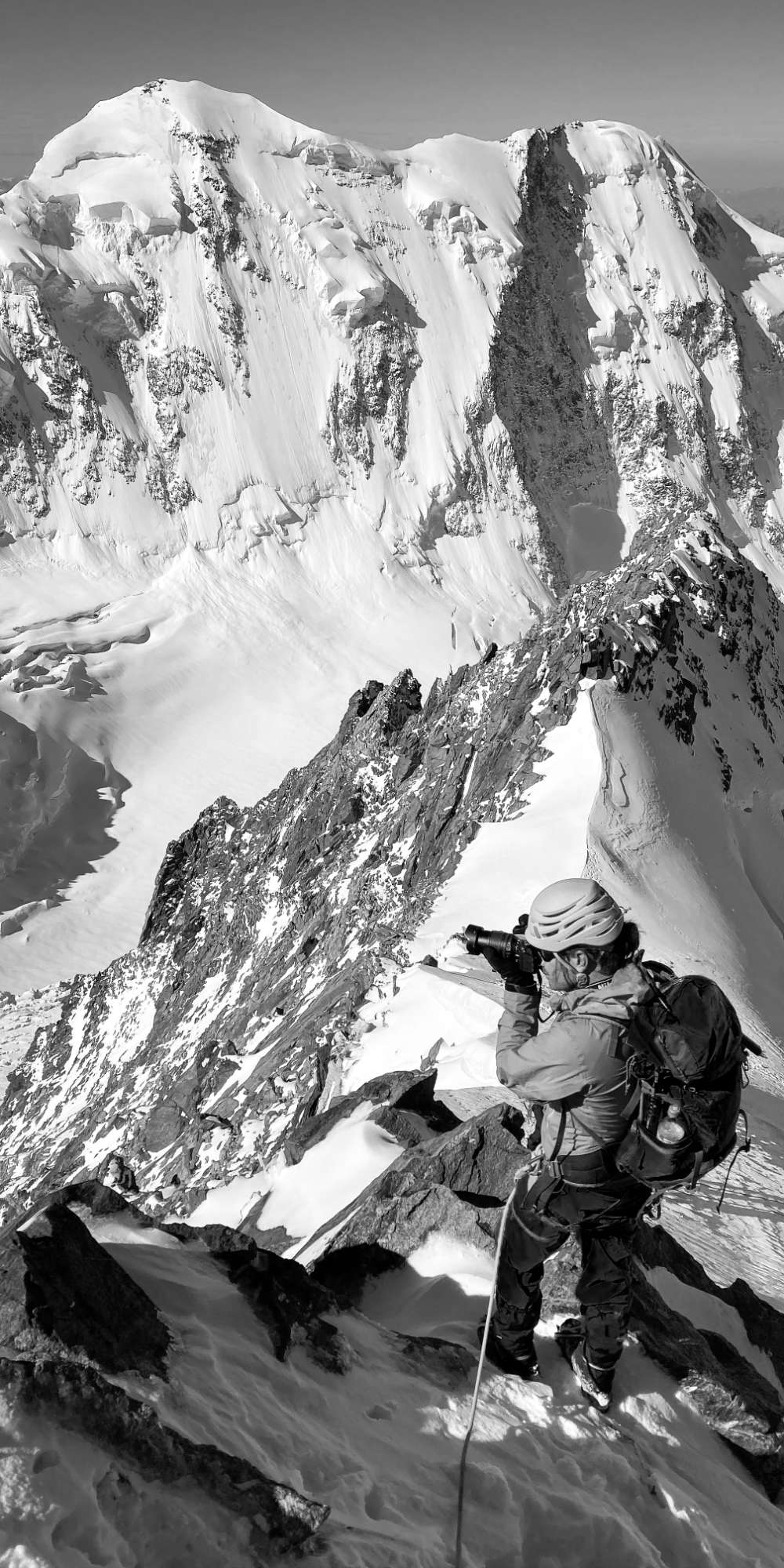 "I live at the service of these impetuous guardians of the eternal snows. Watching their light, vibrating to the rhythm of their beauty has become second nature. I like to live these moments of contemplation of panoramas both frozen and changing, which feed me with their greatness.
In these moments, I taste peace and melt into the landscape. When the clouds are absent, when my gaze goes on forever and I can let my inspiration flow freely. Without any particular goal. Just to live. To let myself be carried.
At other times, I become a truth hunter. I look for the ephemeral moments. The coming storm. The elements colliding. The wind, the air, the rock, creating a chaos that engulfs me in intense and intoxicating sensations. These minutes where I hold my breath so much they are nimbered of a perfection which exceeds me and carries me in a different space. A space that my eye and its accomplice, my camera, know how to capture. Suddenly, everything calms down. Just after the fin of the world, the revelation of another world arrives. Before my amazed gaze, my senses on the alert, the clouds are torn apart like the curtain rises on a new show. The highest summits are adorned with another light, a new contrast.
Nature creates before my eyes. Trembling with an inner joy, I try to capture impermanence. It is like a miracle always renewed. Just after the storm, when the first rays of sunlight illuminate the peaks with their royal light.
My daily life is punctuated by the study of weather forecasts. Detecting the approach of the forces of nature. A subtle alliance between intuition and the rational study of the elements. I am at one with nature, who is the chief creative artist...and I the humble craftsman.
Mixture of experience and naivety, dancing alchemy of summits and elements, fusion between nature and the human being that I am. Who am I in front of all this? A stardust, present, vibrating, panting in the heart of the mystery of life. I aspire to the mastery of the moment which however escapes...
In the end, should I really try to control the moment? When I have everything in place with rigor and yet failure looms, I let my heart speak. And then, sometimes, the miracle happens. This miracle that floods me with joy. I am happy to share with you some of the nuggets I brought back from these journeys to the end of my dreams...
My quest for an ever-renewed perfection, nature has offered it to me so that I can offer it to you in turn. I hope you will have as much pleasure in dreaming in front of these photos as I had in looking for the perfect moment, the right moment.
Thomas Crauwels
Exhibitions
Thomas Crauwels
High Mountain Photography in Black and White.
Between Beauty, Majesty and Purity : Thomas Crauwels invites us on a grandiose and authentic journey to meet these giants of snow and ice that have overwhelmed him. Passenger of emotions, halfway between two worlds: his works elevate us.
The Quest of
Excellence.
Modern romantic artist, Thomas Crauwels has a recognized and distinctive style that has been awarded in Switzerland and internationally on numerous occasions. His quest for excellence is the very testimony of his intimate and sincere link with the Alps.
Award-Winning Art
Thomas Crauwels
GDT European Wildlife Photographer of the Year 2023
See the print
Highly Commended (Top 10)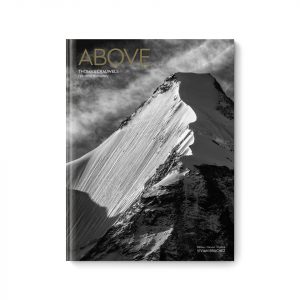 Honorable Mention category fine-art book, nature book, self-published book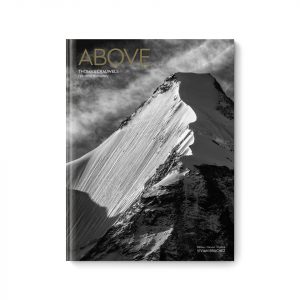 Silver Award in the Fine-Art book category for the realization of ABOVE.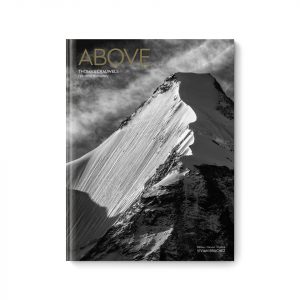 Grand Prize of the picture book for the realization of ABOVE.
Cultural Merit 2022 - Vionnaz
Award from the commune of Vionnaz for my photographic work on the Alps.
Press & References
Thomas Crauwels
High Mountain Photography in Black and White.
Between Beauty, Majesty and Purity : Thomas Crauwels invites us on a grandiose and authentic journey to meet these giants of snow and ice that have overwhelmed him. Passenger of emotions, halfway between two worlds: his works elevate us.
Signatures
Thomas Crauwels
Editions
Thomas Crauwels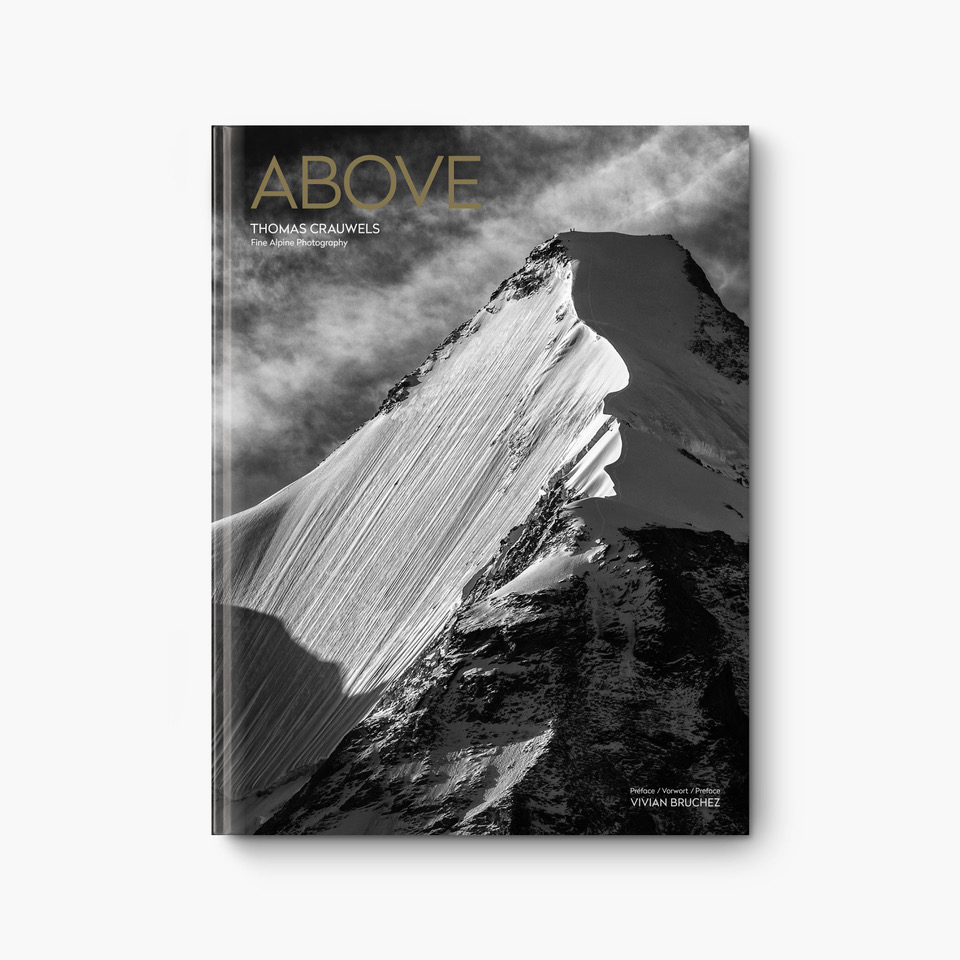 Above
Through his photographic quest, Thomas Crauwels invites you to contemplate the universe of the high mountains. Go with him to discover the Alps, in exceptional atmospheres, enhanced by the magic of black and white and its wide range of contrasts.
82 CHF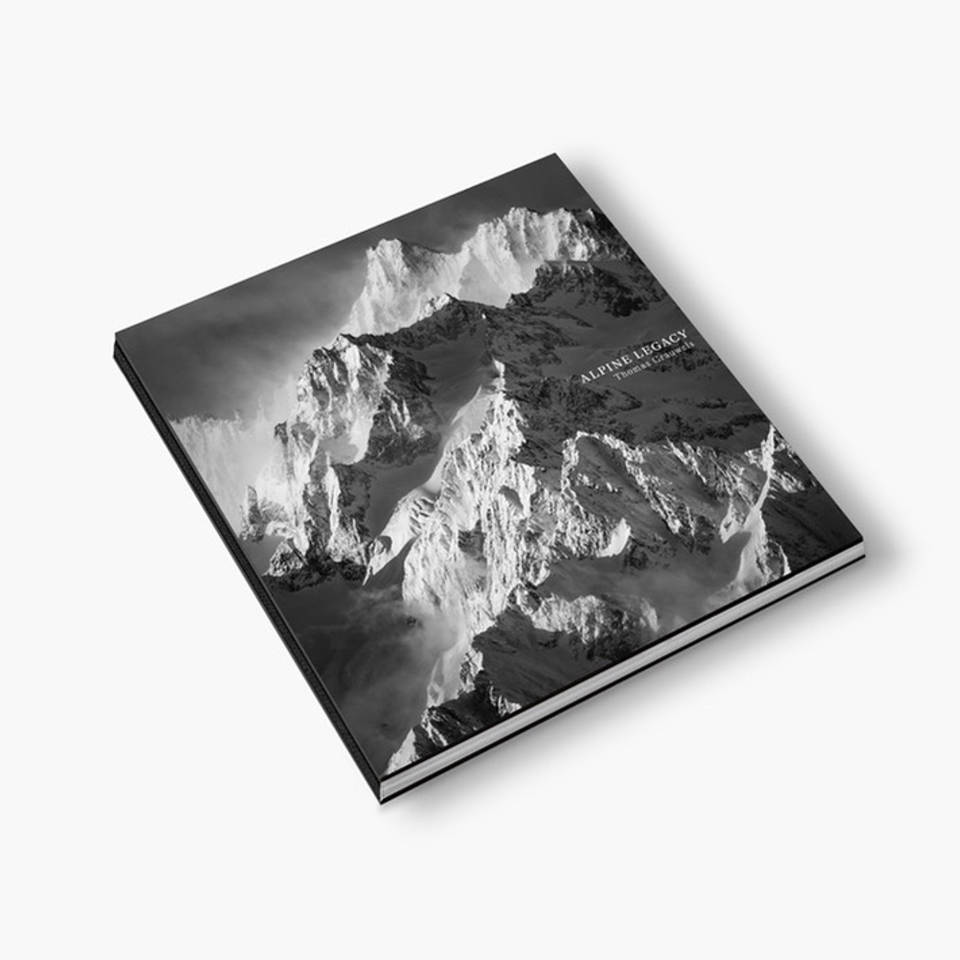 Alpine Legacy
This book in a limited edition of 1'250 copies is a testimony of the beauty of this majestic Nature from above which seems eternal to us, but which, slowly, is transformed. An ode to preserve, contemplate and one day bequeath this celestial kingdom, timeless but so fragile.
150 CHF
Begin Your Own Heritage Of Above.
Notice of Purchasers
A magical vista for mountain lovers
By Ève
Passionate about the mountains, in love with black-and-white photography, the images created by Thomas Crauwels can only seduce us. The purity of the lines, the simply unique viewpoints, the photographic work carried out by Thomas and the exceptional quality of prints make them works of art. From initial contact at the mountain show to home delivery, Thomas offers a highly professional service. We enjoy this magical view every day! Ève M.
We enjoy it every day!
By Corinne & Werner
As former inhabitants of Zermatt, it's hard to forget the Matterhorn, even in a new environment of mountains and nature.
We discovered this large photo of the Matterhorn in a gallery, so strong and intense, it was impossible to forget it........
It became obvious that it should adorn our new apartment as a centerpiece.
What's more, we had a very sympathetic contact with the artist, who came himself to deliver his work.
It's very appreciable and adds a dimension to the object, to know its creator, his passion, the conditions under which it was taken.
The texture of the photo resembles a painting, the lights play on it, Next the hours. It seems alive. A real daily pleasure!
Corinne & Werner
We were bowled over!
By Gabriella & Gilles
My wife and I are amazed at the quality of print and the rendering of this magnificent photo. We waited many years before putting a picture on this empty wall
because we had never "flashed" on a work of art. Now we've found it, and it fits in perfectly with the entrance to our apartment.
What's more, it depicts 3 summits that are particularly close to our hearts: the Weisshorn, Dent Blanche and the Matterhorn, a real symbol...
We would like to thank you again for your impeccable service (rapid response to enquiries, hyper-realistic projection of the work on the preliminary photos of the wall).
In short, we have nothing to complain about and look forward to seeing you at a vernissage.
Gabriella et Gilles
An incredible print
By Quentin
Thomas quickly answered all our questions, confirming our desire to acquire one of his photographs. Once we had received print , it found its perfect place in our living room, where it has since opened up an unrivalled window onto the magnificent horizons of the Matterhorn, Weisshorn and Dent-Blanche. The quality of print on the contemporary support is truly exceptional, allowing us to enjoy every detail of the photograph.
Quentin D.
Monumental Black & White Fine Alpine Photography