Here, you will find a wide selection of high quality frames for my exclusive mountain photos in limited edition prints, which will match all types of interior decoration.
With the right frame you can give an elegant and personal touch to my works and combine modern trends and classical styles.
A frame not only enhances but also protects the print when handled and ensures a longer lifespan.
Each type of frame has a hanging system that allows quick and easy fixing to the wall.
Contemporary

The print is realized on art paper and is laminated on a 3mm thick dibond aluminum plate.
An aluminum frame is affixed to the back of the print to ensure rigidity and to allow the mountain board to be hung on the wall.
The invisible aluminum frame creates a space between the mountain photograph and the wall which makes print look like it is floating.
The Contemporary photo frame adds a touch of refinement and suits all types of interior decor.
Premium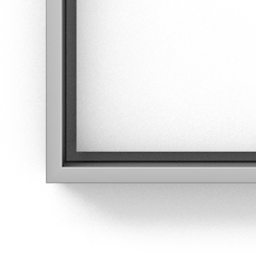 The frame contemporary is inserted in an American box made of anodized aluminum or wood with a thickness of 1.5cm. Made of high quality materials, this frame allows to emphasize in an elegant way the mountain photos and to protect them during the handling.
A space of 1 cm is left between the inner edge of the frame and between the print which gives the impression of print floating in the frame.
Available colors: black, oak, silver and white
Discover the different framings in situation in the interiors of my customers on the page of the realized projects.
Begin Your Own Heritage Of Above.