Sending a print large format mountain photo to decorate an office across the Atlantic is a great pleasure and an honor for the photographer that I am, in love with his mountain environment and his job. This passion for the Alps is also shared by Jason who shows us around his workplace, in his American home.
An image of a mountain in winter, an original interior design idea
For his office mural in the U.S., Jason wanted to recapture the beauty of the landscapes that moved him during his stay at Chamonix a few years ago. He chose a print piece of art He chose a limited edition framed photo taken in the Mont Blanc massif. So, every day, when he enters the room where he likes to work, he is faced with a mountain photo of the majestic Aiguille des Deux Aigles on the French Alps side.
Once is not usual, this print vertical photo of 100×150 cm is in color. It is impossible not to succumb to this rock with golden glints coming out of the mist and culminating at nearly 3500 meters of altitude. It emanates from this photo painting a feeling mixed with power and vulnerability.
This impressive mountain image is particularly well integrated into this beautiful high ceiling rectangular desk. It offers a low-angle view of this spectacular Alpine needle. Its Prestance frame is made of black wood, as is the black bookcase on either side of the picture, but also as is the desk, the window treatments and the huge rug.
A beautiful harmony reigns in this office, thanks to the interior decoration of the room and the symmetrical arrangement of the furniture. A perfect place to host this photograph which is particularly close to my heart.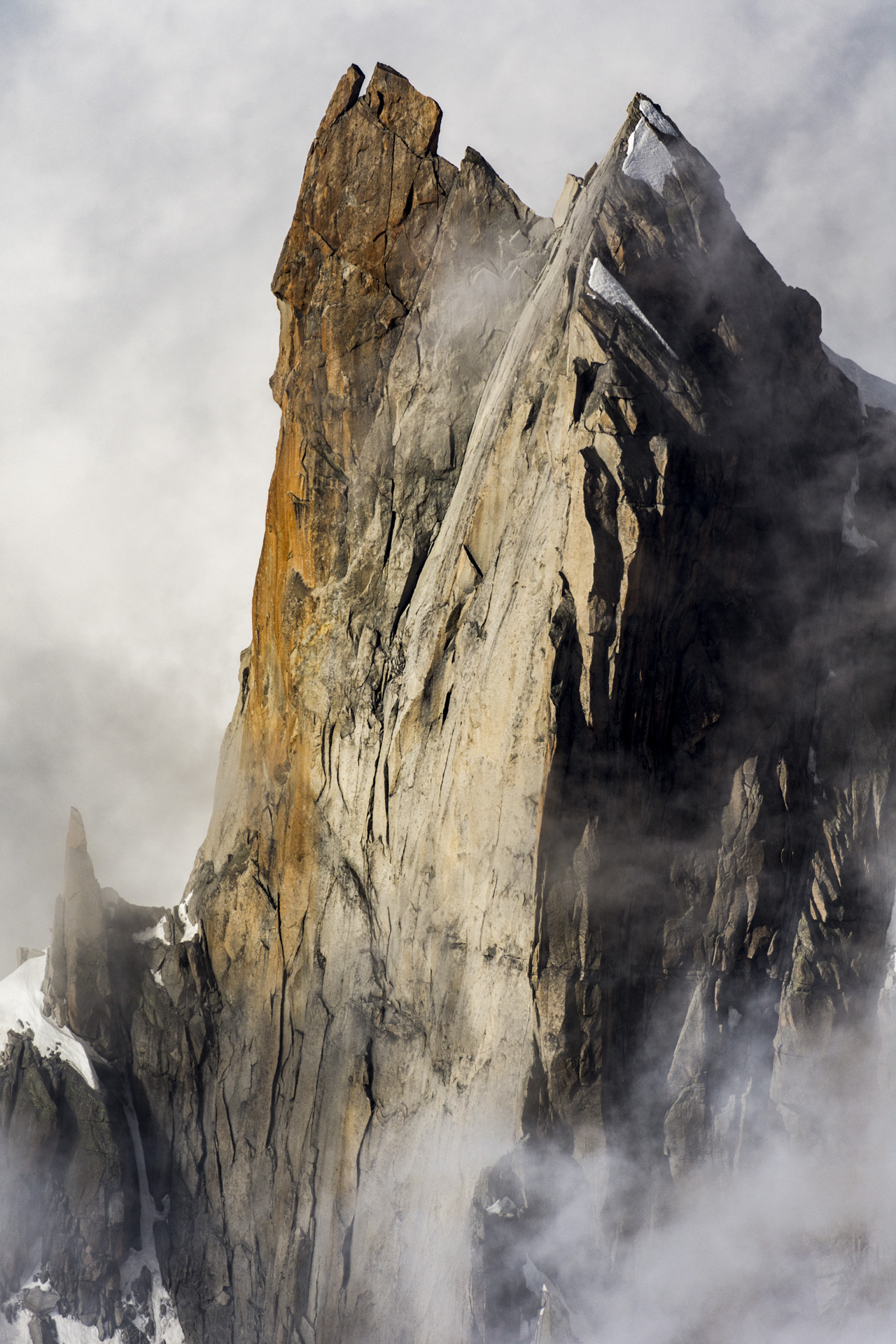 Behind each decorating universe, a personal story
The interior decorator 's job is above all to create an interiorthat resembles us. Like a sanctuary where we feel good and where we can concentrate, especially when it comes to an office. The ancestral Chinese art, Feng Shui, aims to balance the energies of the rooms. The office is a Yang room, so it must be bright and clear to be perfectly alive. Decorating with family photos or landscapes that we love is also particularly recommended for a peaceful atmosphere. A perfect match for Jason!
Passionate about travel, mountains and skiing, Jason is also an avid Colorado Buffaloes fan. A few decorative objects here and there attest to this. And the choice of a design wall decoration, especially when it occupies a central place in the room, tells a part of its occupant's story. So happy with his purchase, Jason confides to us that he can't wait to come back to Chamonix to see, in real life, the Aiguille des Deux Aigles which is now part of his daily life. He had not seen it on his last trip to Chamonix. One more reason to be so impatient. So, before coming back to France soon, he plans to order another photo frame for the wall decoration of his room.
Which piece will tempt him? A panoramic view of the Mont Blanc? The Aiguille du Midi and the Cosmiques ridge in winter? Or maybe a print photo of the The Matterhorn in the Swiss Alps... to dream of another trip when he will be quietly lying in his bed? A new story that I may tell you soon.
Discover all the recently completed projects: See all projects